FOVEA
Steve Shaw - bass, guitar, vox
Max Weigel - guitar, vox, keys, electronics
Jake Denicola - drums, vids, foley
Halley Furlong - Mitchell - vox, keys, violin
Facebook - Twitter - Instagram
Bandcamp - CD Baby - YouTube - Spotify
The function of the fovea—a cone-laden well within the retina—is discernment of depth and detail. And for New York-based four-piece Fovea, depth and detail are all. On the surface you get the giddy whimsy of boy-girl vocal volleys and keyboard quirks, but the more you listen, the further you'll delve...and the more you'll perceive.
Perhaps the best part? Fovea's music—an aural kaleidoscope spinning rock, pop, jazz, ambient and psychedelia—will be yours and yours alone. "There's a universality to what we do that lets listeners understand our songs in their own way," says Halley of pencil me in, the band's full-length debut for boutique label Omad.
A daring joyride fueled by "real" instruments and chimerical synths, pencil me in is as prickly as it is pleasing. First single "Cost Of" is lounge-y and lissome, its seductive ease provoked by intricate rhythms. Cool jazz cornet and teasing high hat swirl just ahead of melancholy on "S'appeller," while the drum-propelled spectral dream state of "Always" may be as close as fovea comes to a true love song. And the buoyant "Don't Play" does play — with ideas of desire and independence, its "he says/she says" tag team stirring the pot in, under and around its peppery pop.
The band members—drawn to each other despite sonic backgrounds and influences as far flung as hip-hop to opera—began developing their impossible-to-pin-down sound while at Skidmore College in 2014. From the start and to this day, their approach has been collaborative. "Someone comes in with an inkling, and we'll workshop it through improvisation or discussion," Max explains. "We all like to toy and tinker with structure, groove and lyrics," adds Steve. "Our aim is to retexture familiar sounds in a way that opens ears to new applications and permutations of 'traditional' pop music."
If that makes for a certain complexity, so be it. "Our stuff is pretty involved, often with multiple changes and parts within a song," says Jake, admitting, "We definitely don't make it easy for listeners. We want to challenge you a bit."
Don't expect to be spoon-fed literal lyrics either. "We have no intention for how our words should be received," says Halley, who with Max pens the lion's share of Fovea's abstract poetry. "We'd rather encourage interpretation and connection than impose anything specific." Yet Max allows: "We do a lot of social- and self-examination—the band is a musical means to explore ourselves and our surroundings—so it would be cool to inspire our listeners to do the same."
Fovea did just that with their 2016 EP Fear Of, which Sound Review called "A statue of sound, a monument of creativity and true expression." The single, "Puppy," had a self-produced video (check it out—we defy you to wipe that smile off your face https://www.youtube.com/watch?v=a5HFzO6S82o) and helped the band land a coveted session at sneaker giant Converse's Rubber Tracks studio in Boston. Fovea also gigged around a bunch, offering their growing fan base a whole other experience. "We have a dreamy, subdued effect on record, but we're louder and more aggressive live," says Jake. "Lots of feedback, distortion, digital effects—a much wilder realm."
Sweet and striking. Twist and turning. Fun and confounding. In your face at a venue near you; in your space with pencil me in. Do yourself a favor and make a date with Fovea. Put it on your calendar. In ink.
From Glory in Sound Review Jan,12,2017
Fovea is an electronic dream pop psych rock band from New York, New York. A little on the lounge-y side, a little on the jazzy side, Fovea's summer 2016 release is well composed and a joy to listen to. It's engaging, with its delicate guitar layers and angelic vocal harmonies. It's subtle in it's percussive expression, never stepping out of place but always keeping perfect time. Not to say there isn't some amazing drum tracking here, there really is. The bass and drums hold the wild keyboards and synth. The back and forth between the male and female singer is refreshingly new and exciting.
This is the kind of pop music sound that I always find myself in admiration of. The catchy, creative melodic flow of Fovea is just on another level than can be found in mainstream music. It's got all of the fun and happy pop sound without a lack of content, Fear Of is practically bursting with artistic merit. I keep coming back to the word art, I think that's what this album is to me. The way the sounds layer over each other, especially in the song. "TAIW." It's masterful, carried throughout by the skilled guitar and synth playing. Every part of Fovea comes together to create a otherworldly, magical whole.
A statue of sound, a monument of creativity and true expression that will easily stand the test of time. Fovea is different, different from anything I've ever heard before. With all the musicians in the world, we must remember that our songs are still unwritten. Only we can write them, and they are still important. You, the musician, artist, creator, whatever it is that drives you is important. The work of your hands and mind is significant, and I am reminded of this more and more with each new amazing band I am fortunate enough to hear. Fovea knows how to make a good album, and I can't recommend it enough.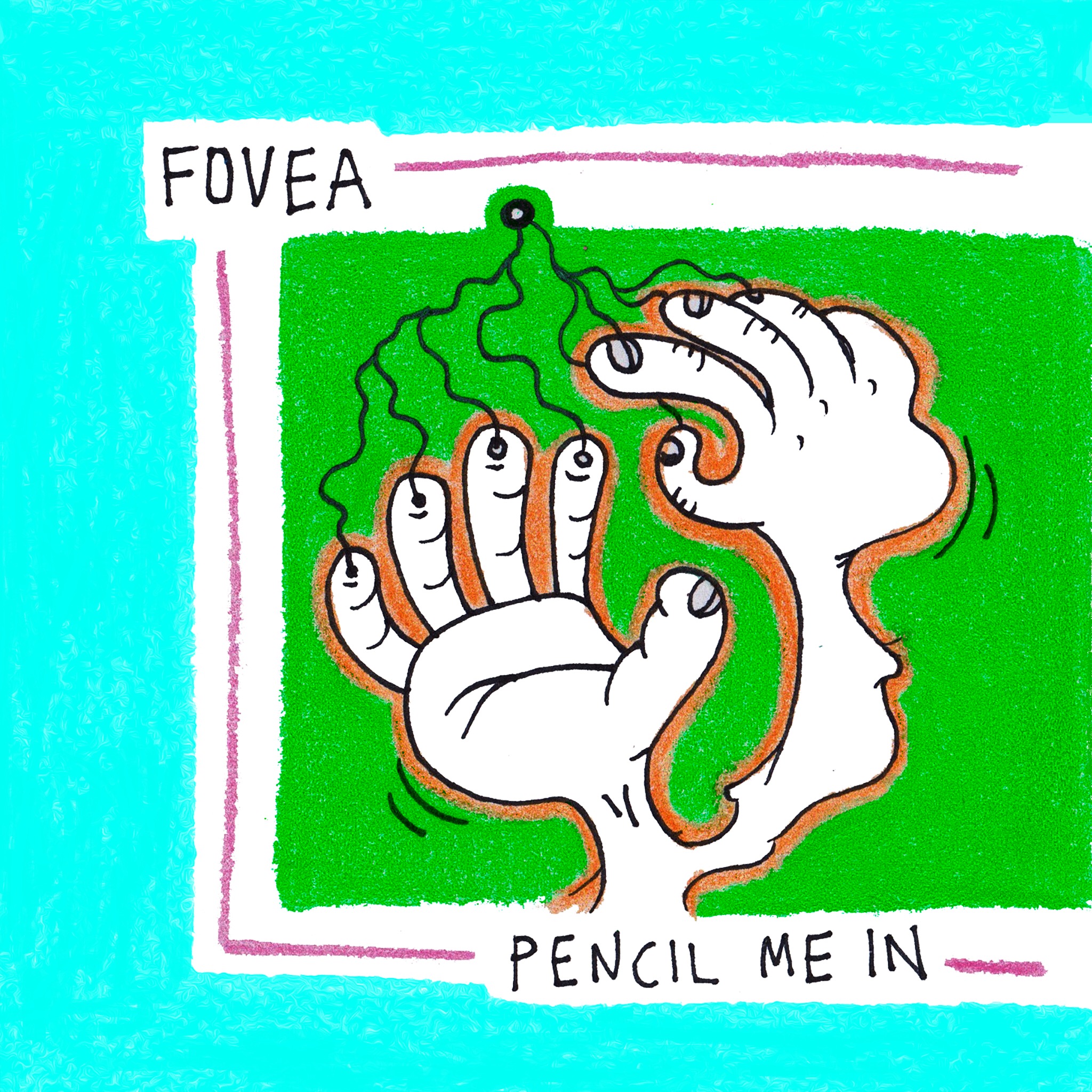 SONG PREMIERE: FOVEA'S "COST OF" DISPLAYS DARING SPIN OF JAZZ & ELECTRONICA
"An aura kaleidoscope spinning rock, pop, jazz, ambient + psychedelia making for a daring joy ride." Many thanks to @glidemag for the premiere of @foveaband "Cost Of"! #linkinbio gets you to our site for a listen!! Read the article Here